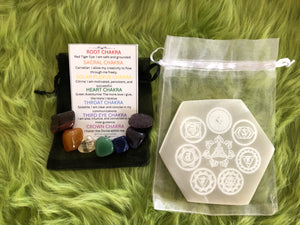 Keep your chakras balanced and aligned with this all-in-one chakra set! Your set comes with a hexagonally shaped selenite (satin spar gypsum) "charging" plate, that is laser etched with the chakra symbols, along with seven tumbled stones to correspond with each chakra:
Root Chakra: Red Tiger Eye
Sacral Chakra: Carnelian Agate
Solar Plexus Chakra: Citrine
Heart Chakra: Green Aventurine 
Throat Chakra: Sodalite
Third Eye Chakra: Amethyst
Crown Chakra: Lepidolite
You will also receive a card identifying each stone with its chakra along with an affirmation for each. This is all wrapped up in a beautiful organza bag making it ideal for gift-giving and for taking with you on-the-go. 
Selenite is known for its ability to cleanse without retaining any negativity. Use your plate to "charge" your included stones or stones of your own! We hope you love! 
Chakra Selenite Plate is roughly 3.5" long 3.5" wide. Size and shape of the plate and stones may vary slightly.