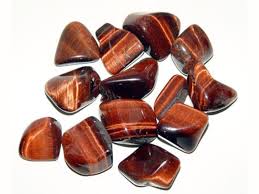 Red Tiger Eye, also known as Dragon's Eye, is Tiger Eye with red shades and hues. It shares the same energies and properties of normal Tiger Eye.
Red Tiger Eye is an excellent grounding stone for meditation. It aids in achieving manifestations and desires and provides clarity, focus, and the courage to take action on projects and goals, reducing distractions. Try meditating over the solar plexus for ultimate manifesting power. 
Chakra: Solar Plexus, Sacral, Root
Planet: Earth
Zodiac: Capricorn
Element: Earth, Fire
You will receive one tumbled Red Tiger Eye. Each piece is about an inch long. Size and shape may vary slightly.