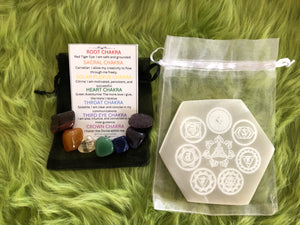 Keep your chakras balanced and aligned with this all-in-one chakra set! Your set comes with a selenite (satin spar gypsum) laser etched, hexagonal chakra plate along with seven corresponding chakra tumbled stones:
Root Chakra: Red Tiger Eye
Sacral Chakra: Carnelian Agate
Solar Plexus Chakra: Citrine
Heart Chakra: Green Aventurine 
Throat Chakra: Sodalite
Third Eye Chakra: Amethyst
Crown Chakra: Lepidolite
You will also receive a card identifying each stone with its chakra along with an affirmation for each. This is all wrapped up in a beautiful organza bag making it ideal for gift-giving and for taking with you on-the-go. We hope you enjoy!  
Chakra Selenite Plate is roughly 3.5" long 3.5" wide