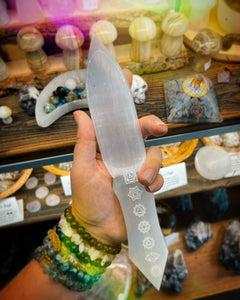 This selenite athame is a must have for all of your magical needs. Place your chakra stones along the laser-etched chakra symbols to charge and align your chakras with intention and purpose.
Selenite is one of a few stones that can cleanse other stones without retaining any negative energy. Harnessing the feminine energy and light of the moon it is an excellent stone for meditation and spiritual work. It's pleasing and natural glow makes it a favorite for all and adds to the aesthetic of any space.
About 10" long. 


This is a novelty item and is not to be used as a weapon.