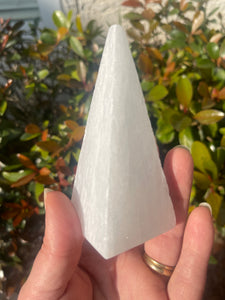 Our selenite pyramids work great as a place to store and cleanse your bracelets, or simply to add to your aesthetic!
Selenite is one of a few minerals that cleanses without retaining any negative energies. 
4"x2"
All material that looks like this is called selenite but it's technical term is Satin Spar Gypsum. 
We choose only quality pieces when shipping. We will intuitively pick the best one for you! Size and shape may vary slightly!