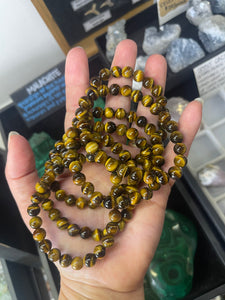 Tiger Eye is a variety of Quartz and a pseudomorph (meaning false form) replacement of Crocidolite. It forms when Crocidolite has its chemical fibers replaced by silica. Its colors are generally a combination of golden browns, yellow, beige or tan. This mineral was first reported in 1892 by J.D. Dana and was clearly named after its similarities to a real tiger's eye.
Tiger Eye helps one access their inner strength and channel it towards their personal needs and desires. This may come in the forms of creativity, drive, determination, and increased focus. With Tiger Eye, we are able to envision not only our potential but our connections with others around us. Through peace and love comes acceptance and growth.
Chakra: Solar Plexus, Sacral, Root
Planet: Sun
Zodiac: Leo, Capricorn
Elements: Fire, Earth
You will receive one tiger eye bracelet.